THE NEW
CITY
CENTRE

Neighbourhood
Community
Highlights
EVERYTHING YOU WANT AND NEED ALL WITHIN REACH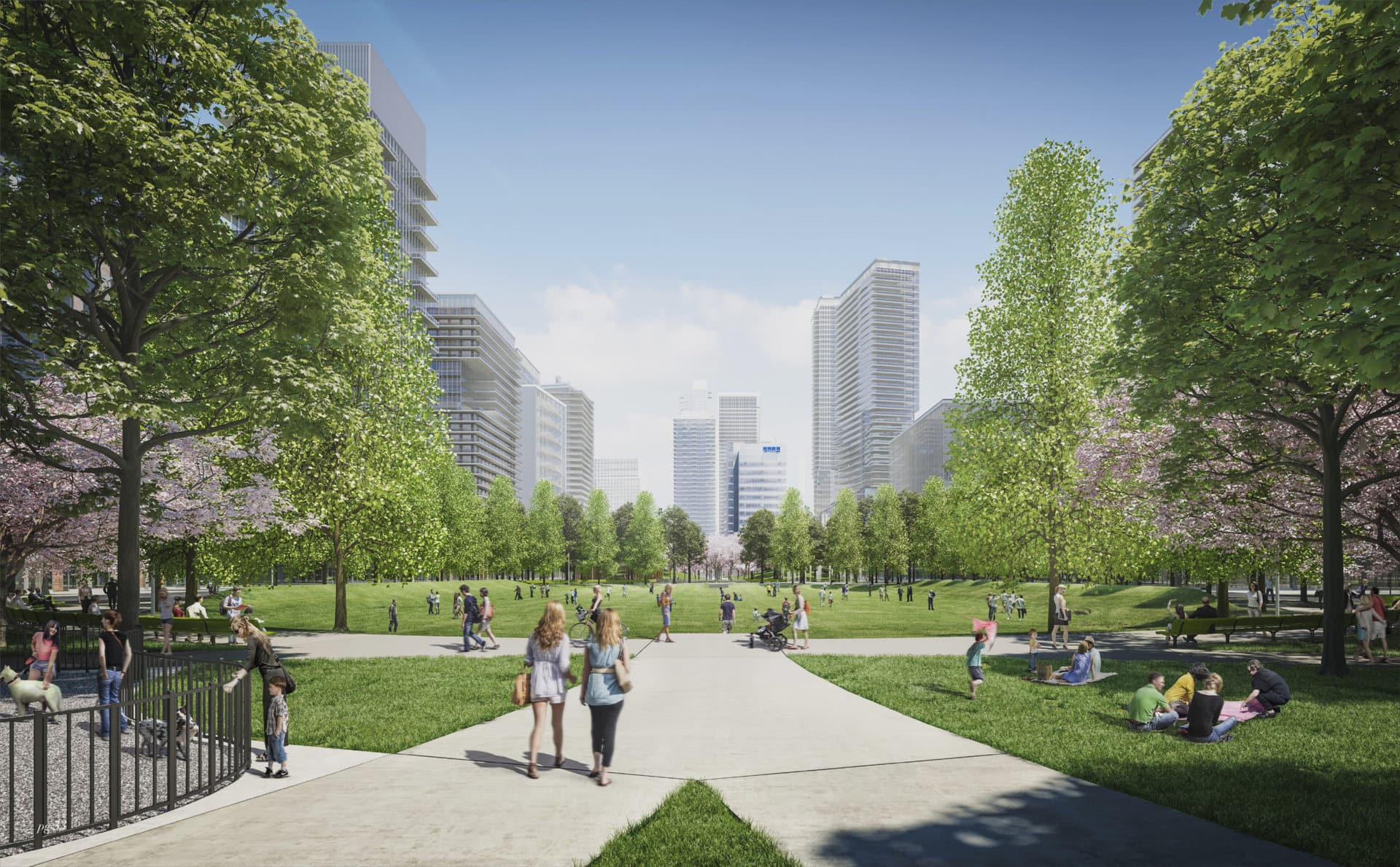 100+ ACRE CITY CENTRE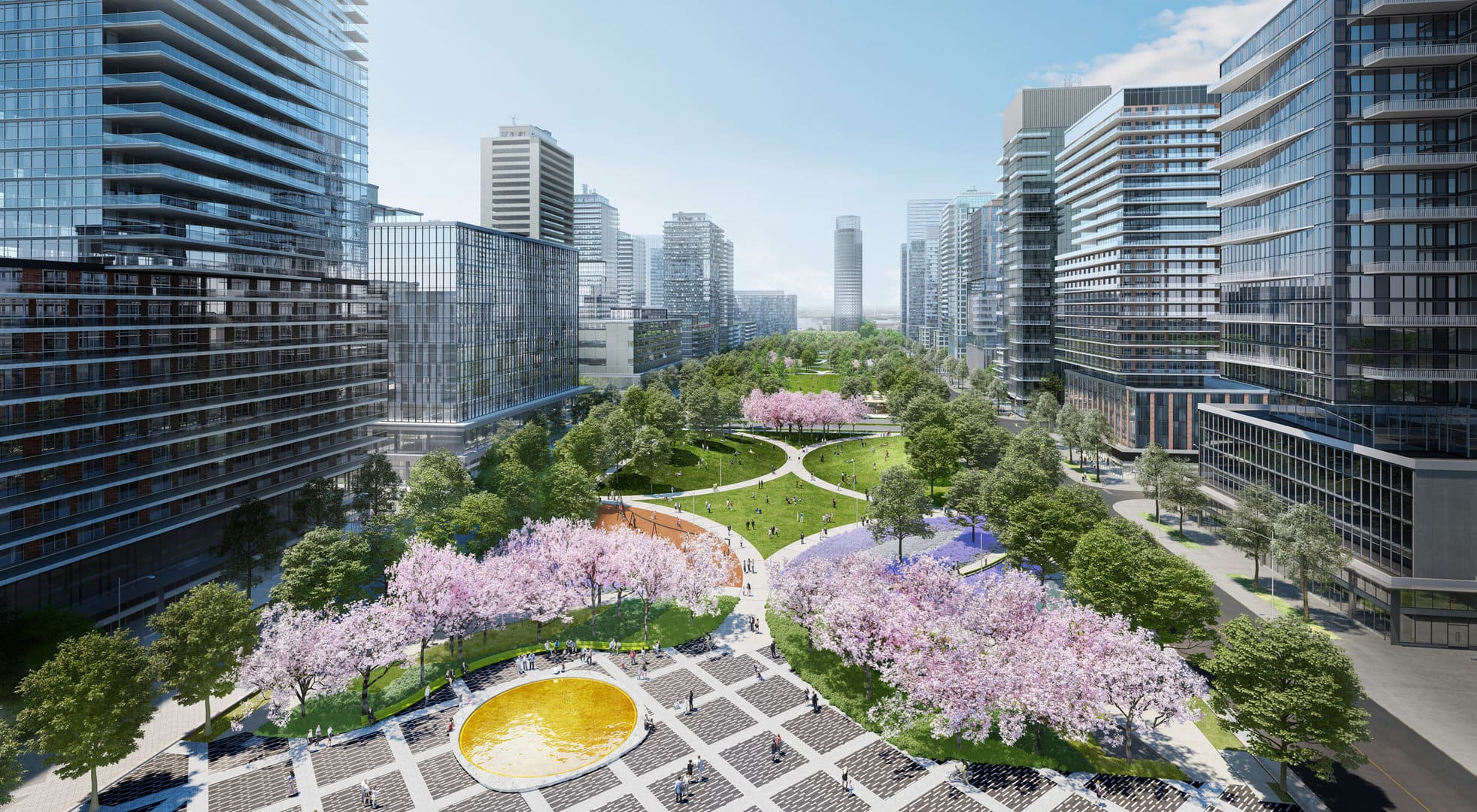 9-ACRE PARK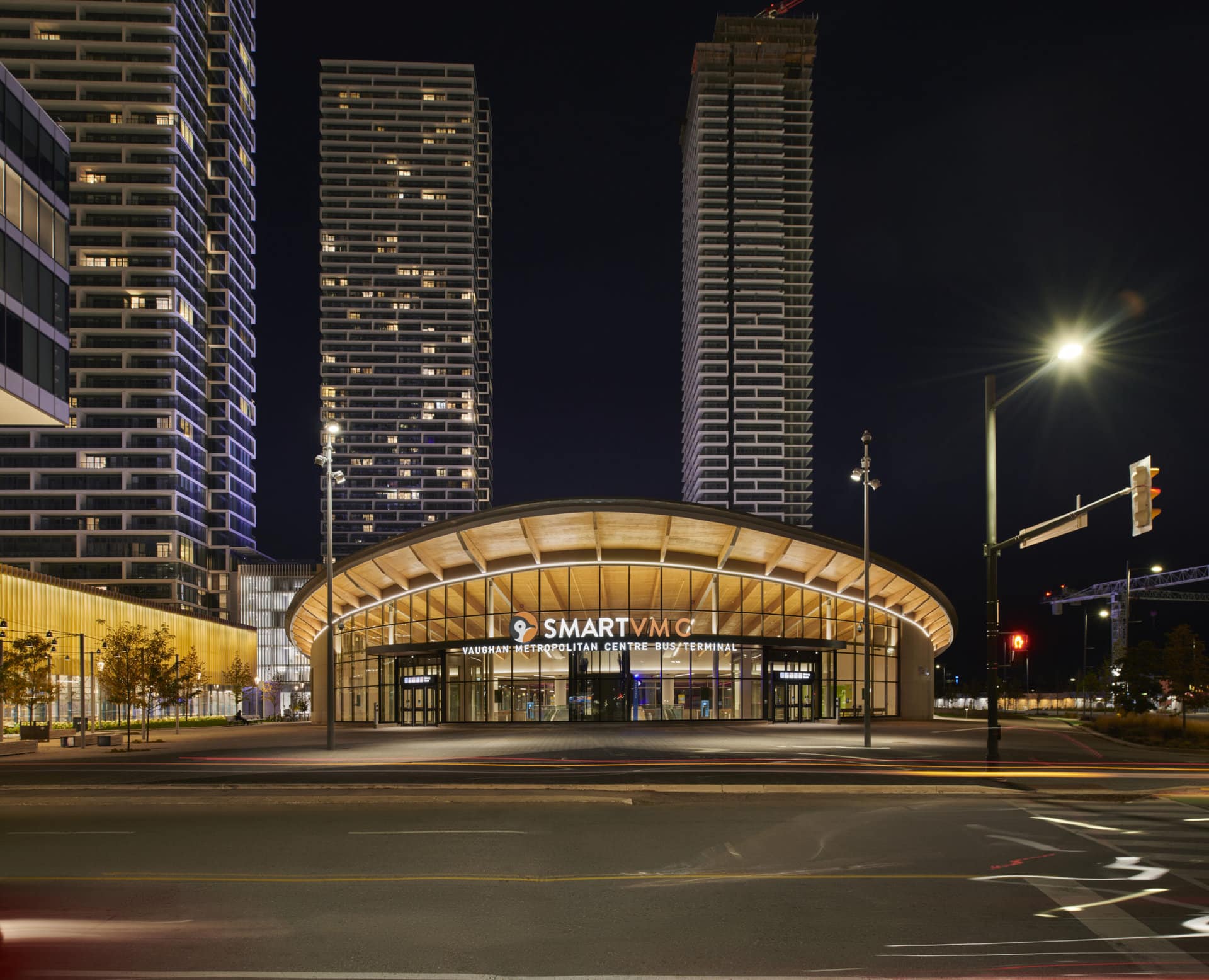 REGIONAL TRANSIT HUB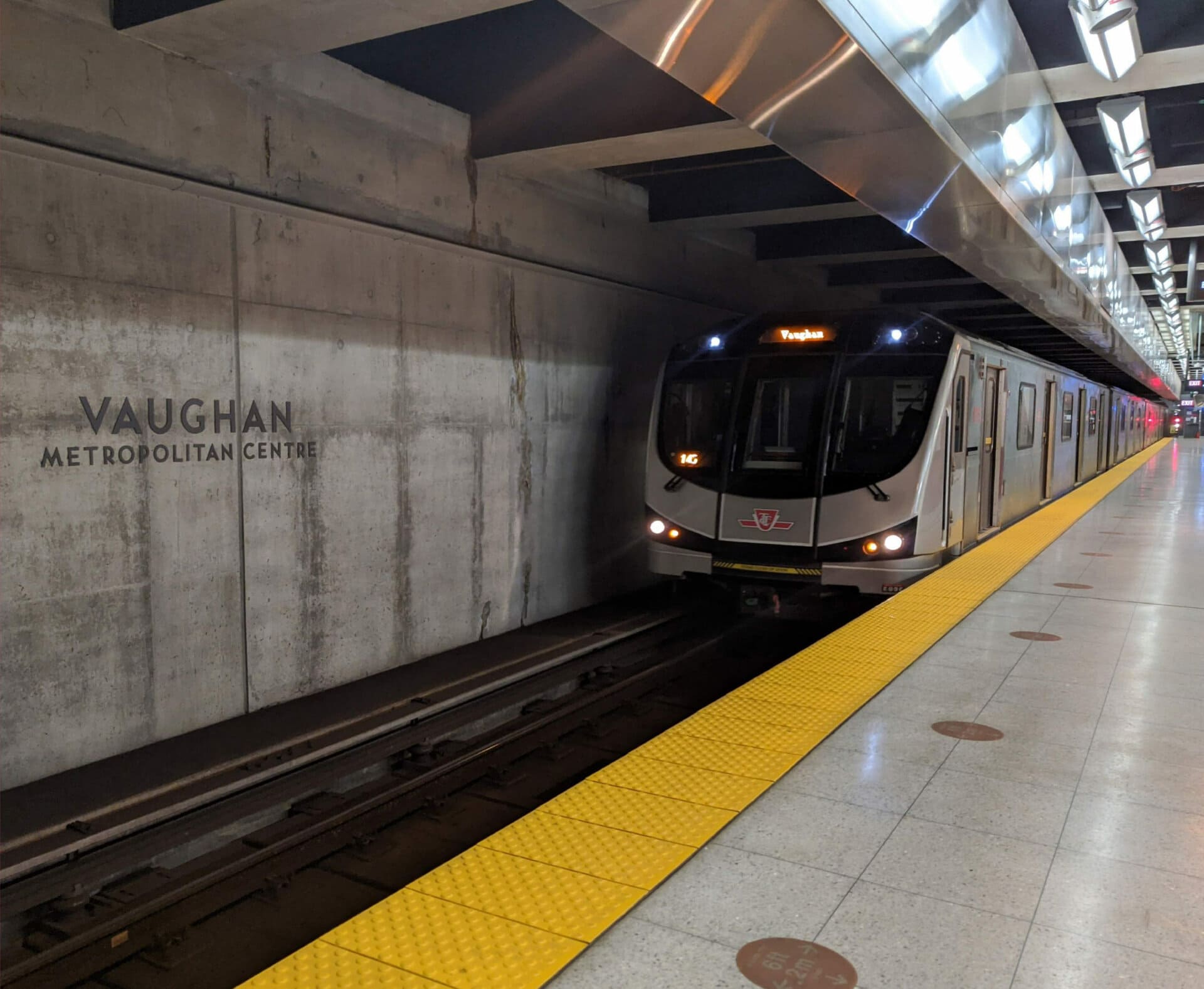 ON-SITE TTC SUBWAY
Visit Smartvmc.com
THE HEARTBEAT
OF THE CITY
SMARTVMC X CLAUDE CORMIER 9-ACRE CENTRAL PARK
This is
SmartVMC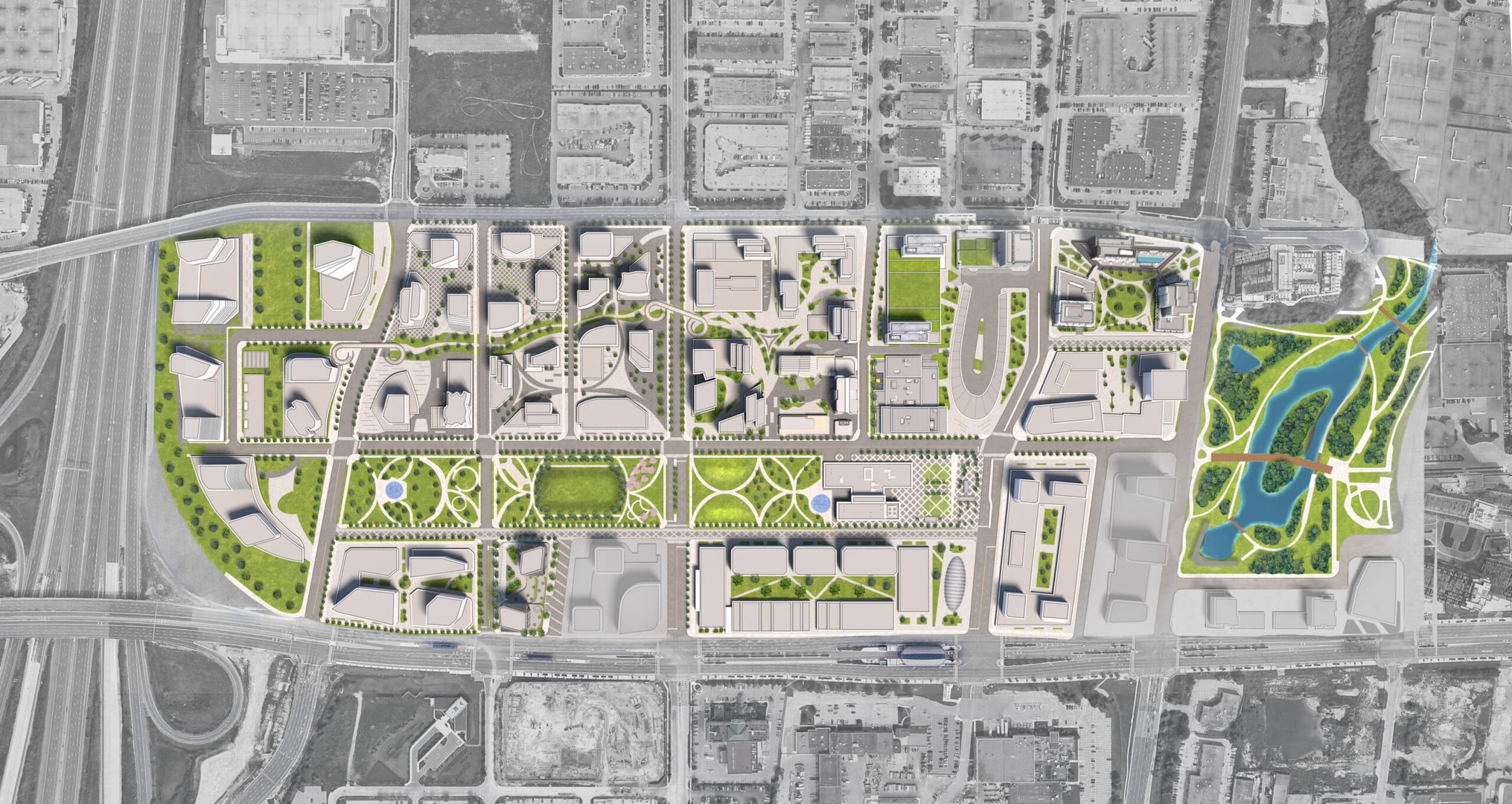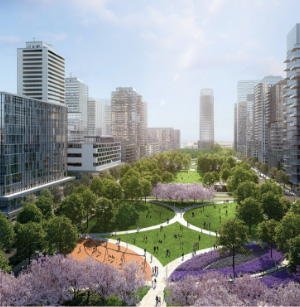 9-ACRE CENTRAL PARK
In the heart of the SmartVMC, the 9-acre park designed by acclaimed landscape architect, Claude Cormier, will allow residents to connect with the outdoors and each other.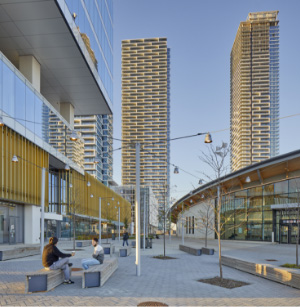 REGIONAL BUS TERMINAL
Connected to anywhere in the GTA, the SmartVMC Bus Terminal, services the region's main transit providers: YRT, Züm and GO.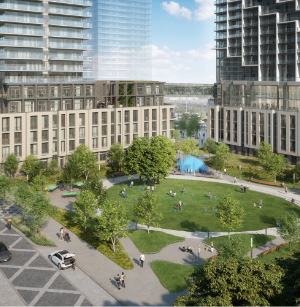 PARKS & TRAILS
Pedestrian-focused greenspace is woven throughout SmartVMC enhancing the lifestyle of its residents.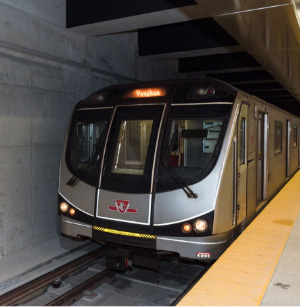 TTC SUBWAY
Onsite TTC subway gives commuters easy access to downtown Toronto via the University subway line, connecting to Union Station in 40 minutes.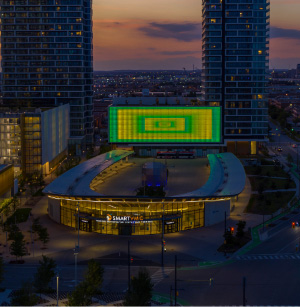 PXL GALLERY
PXL Gallery, Canada's largest LED art installation, is a luminous beacon for the City of Vaughan and beyond.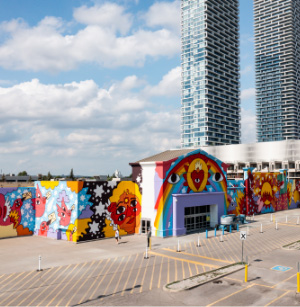 ARTWALK MURALS
Defining SmartVMC's new art district, a roster of acclaimed international and local artists have infused creativity into SmartVMC with a world-class, 30,000 sq. ft. mural.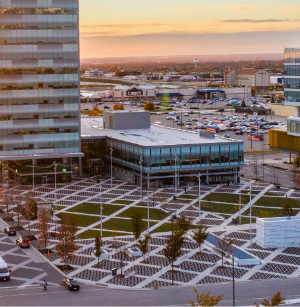 TRANSIT SQUARE
Designed to bring people together through urban programming, Transit Square is a 49,000 public, outdoor event space hosting activations and events for the community.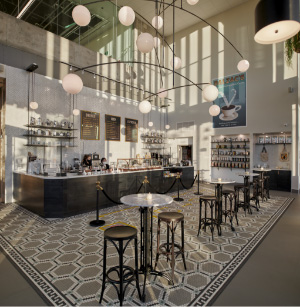 BALZAC'S COFFEE
Located in the base of the PwC/YMCA mixed-use tower, Balzac's is a urban café experience where residents can caffeinate and fuel up.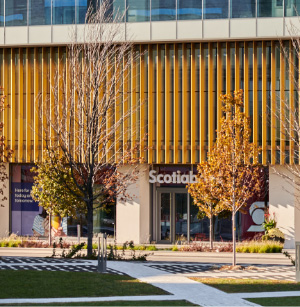 SCOTIABANK
Essential services including banking are all within reach at SmartVMC.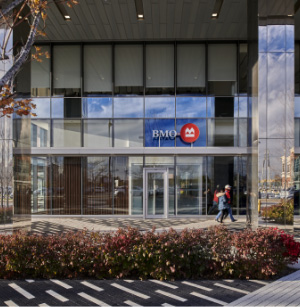 BMO
SmartVMC is host to services including baking, making day-to-day errands effortless.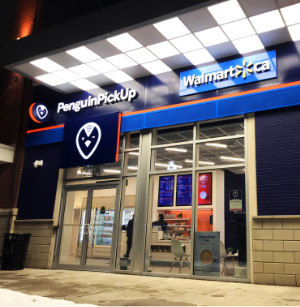 PENGUINPICKUP
Just steps from the TTC subway, PenguinPickUp is a free pick up location for online delivery orders. From an IKEA couch to farmers' market groceries, deliveries are just around the corner.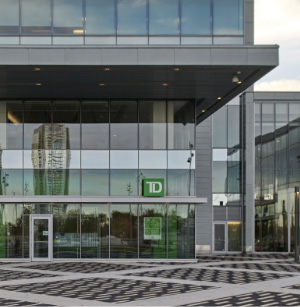 TD BANK
Checking things off your to-do list is easy for residents when services like banking are steps from your front door.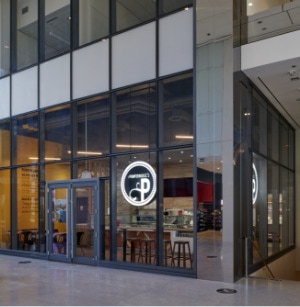 PUMPERNICKEL'S
Grab a bite to eat or grab a party tray for entertaining, Pumpernickel's offers a selection of convenient, express, take-out and dine-in options.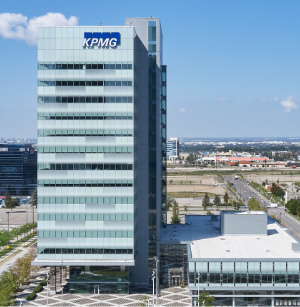 KPMG TOWER
The KPMG Tower is a 15-storey, LEED Gold certified, Class-A, 355,000 sq. ft. office tower that is fully leased to the world's best known companies such as KPMG, Harley Davidson, Miller Thompson LLP, GFL, FM Global, BMO, TD Bank and Mark Anthony Cosmetics.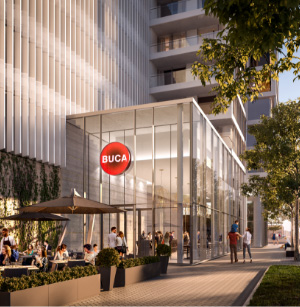 BUCA
Opening in 2022, BUCA will offer residents an internationally celebrated Italian dining experience, steps from their front door.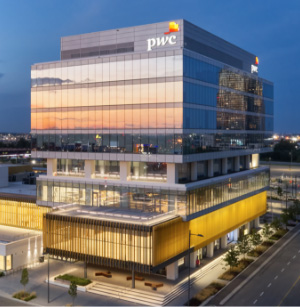 PWC/YMCA
This mixed-use tower not only features offices for renowned Canadian firm, PwC, but also a 77,000 sq. ft. YMCA and brand new Vaughan Public Library.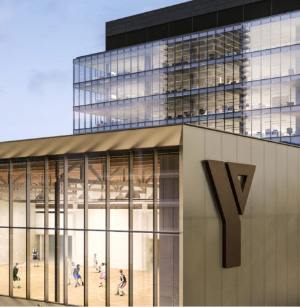 YMCA
77,000 sq. ft. recreation facility includes a pool, fitness studio, conditioning area, youth zone, gym, community rooms and daycare.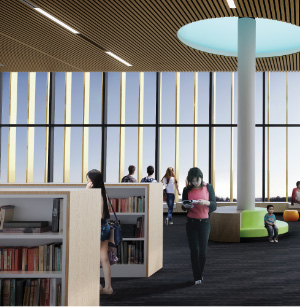 VAUGHAN PUBLIC LIBRARY
Home to the newest library in Vaughan, SmartVMC residents have onsite access to services and resources provided by the city, right at their fingertips.
Bringing
Downtown
Uptown
Thrive in an urban community surrounded by picturesque parks, public squares and world-class art and culture. Step out with a coffee from Balzac's and connect with neighbours over dinner at Buca. Venture over to Transit Square, a 49,000 square foot outdoor public space, and take in live music, events and farmers' markets. A true city centre, SmartVMC has everything you want right outside your door.
Get out and connect at one of SmartVMC's community activations
Take in a concert or a festival SmartVMC's outdoor, urban programming space, Transit Square
Experience Canada's largest low resolution LED screen, PXL Gallery at SmartVMC
ArtWalk, SmartVMC's new art district is a GTA destination for art and culture
New home to the YMCA and Vaughan Public Library, SmartVMC residents have recreation facilities steps from their front door
Stay connected to anywhere in the GTA with an onsite regional bus terminal and TTC subway
Connectivity
Connection
is key
SmartVMC's transit hub connects you to everywhere in the GTA. Just steps from the Vaughan Metropolitan Centre TTC subway station, SmartVMC regional bus terminal, as well as Highways 7, 400 and 407 minutes away, nothing is ever out of reach.
The Vaughan Metropolitan Centre Station TTC Subway Line 1 is conveniently located across the street from The Millway.
Get around York Region with the SmartVMC Bus Terminal
Just steps from your door, the SmartVMC Bus Terminal connects you to York Region and Brampton
From downtown to downtown in 45 minutes via the TTC Subway
1 VMC TTC Subway Station
2 SmartVMC Regional Bus Terminal
3 Highway 407 TTC Subway Station
4 Pioneer Village TTC Subway Station
5 York University TTC Subway Station
6 Finch West TTC Subway Station
7 The Keg Steakhouse + Bar
8 Copacabana Brazilian Steakhouse
9 Chop Steakhouse & Bar
10 Symposium Cafe Restaurant & Lounge
11 Earls Kitchen + Bar
12 Balzac's Coffee Roasters
13 Scaddabush Italian Kitchen & Bar
14 Sofra Istanbul
15 BUCA
16 Starbucks
17 Ciao Roma
18 IKEA Vaughan
19 HomeSense
20 Vaughan Mills
21 Winners 22 Canadian Tire
23 LCBO
24 Fortinos
25 Walmart Supercentre
26 Costco
27 Shoppers Drug Mart
28 St. Augustine YMCA Child Care Centre
29 Life Time
30 Holy Family Daycare Centre
31 Peekaboo Child care
32 Vaughan Public Library
33 Cineplex Cinemas Vaughan
34 Sky Zone Trampoline Park
35 Canada's Wonderland
36 Dave & Buster's
37 Air Riderz Adventure Park Vaughan
38 Niagara University in Ontario
39 York University
40 Julliard Public School
41 Maple High School
42 Father Bressani CSS
43 Blue Willow Public School
44 St. Gabriel the Archangel CES
45 SmartVMC Central Park
46 Good view – Hiking Area
47 Alumni Field at York University